EXCLUSIVE HOLIDAY SEASON PRE-ORDER!!
ORDERS SHIP NO LATER THAN DECEMBER 7th
The "BARE TONES" CD/VINYL COMBO
Splendid Limited Edition Collector's CD that has the look and feel of vinyl.
CD comes with a six panel full color insert.
Splendid Limited Edition Collector's 2 LP set in a full color gatefold sleeve.
Double LP comes in a full color gatefold sleeve.
Both issues contain 15 fully mastered tracks.
Both issues come in resealable sleeves.
One-Time Special Pre-Order Price – $39.97
YES! MAKE MY COMBO A "BONUS PACKAGE!"
Exclusive Pre-Order Bonus $45.94 - (Only $5.97 More)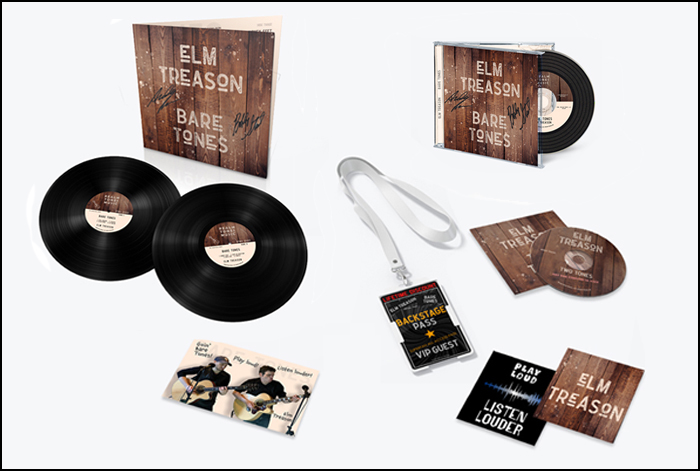 Autographed, personalized and hand-numbered CD and vinyl. No more than 200 of each will be printed.
Bonus CD in a mini LP replica sleeve featuring two bonus tracks from the performance.
Hand-written personalized note on a limited edition full-color collector's post card.
Two 4X4 vinyl stickers available nowhere else.
An exclusive Collector's Backstage Pass badge (in a necklace) that includes a Lifetime 10% Off Discount Code on all items at elmtreasonshop.com
ONE MORE THING... YOU'LL DIG THIS!
A Very Special "THANK YOU" offer
20% OFF ANY ONE OF THESE ELM TREASON T SHIRTS
(AND COLLECTOR'S BUTTON, TOO)
Be the envy of anyone you come into contact with… instantly!
ALL T-SHIRTS WILL SHIP IMMEDIATELY UPON ORDER
REST OF YOUR ORDER SHIPS SEPARATELY NO LATER THAN DECEMBER 7th